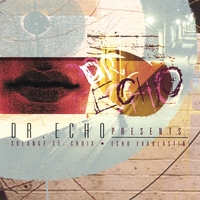 Doctor Echo is Justin DeHart from Sacramento, California and – it says here – is "considered one of the most prominent dub artists of the younger generation." The key draw to this awkward album is Solange St. Croix, a vocalist and poet whose presence lends something special to a dub-tinged electronic backbone that all too often disappears into noodling and reverb.
And this is really what it comes down to: St. Croix's mesmerising presence really is special, despite her tendency to disappear into an overuse of patois that occasionally sounds like she's taking the piss. The problem comes in the accompaniment which more often than not lends little to her performance, with a tendency to detract from it. Ode On A Short While Spent In Your Beautiful is lyrically sublime, and El Aguaaaaah Y'La Sonrisa is solid, even if it does labour the cries of Africa in a borderline-comic way. However the real puzzle here is just what Doctor Echo thinks he is doing; the title track fuses late-nite jazz with reggae and creates a singularly boring and unidimensional mash of sounds. Aforementioned Ode On A Short While… has a backbone that sounds like something DJ Shadow rejected, and instrumental track One Pointedness takes an aggressive bass signature and then does nothing with it.
This is a problem that seems to affect a lot of the album: the sexy, playful Our Relationship is lyrically stunning, but you get caught up with this relentless bass that just takes the flow away from the storytelling. Dream Garden has an additional four additional musicians coming in to "jam" their way into a smokehazed headnodding ditch, while closing track Star Dub sounds like it was performed by toddlers.
Maybe I'm missing something here, but this seems to me like a missed opportunity. Solange St. Croix has definite talent and has a hell of a lot to say. She just chose the wrong medium through which to say it: Doctor Echo.